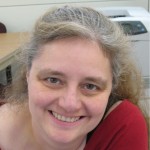 My name is Linda McClure, and I'm the Website Minion. I've been designing, building and maintaining websites since 1998, and I've worked professionally in the field of library technology for several years. I'm fluent in three languages: Librarian, Geek, and English.
As a business owner since 1998, I understand the time challenges that go along with running a company. There are often many tasks to accomplish in too little time, and keeping a website running smoothly with up-to-date information can easily get overlooked.
As the Website Minion, I offer small business owners an internet presence without having to sacrifice the time and effort that comes with working with technology. My goal is to take care of the daily demands of the website so that business owners have more time to do what they love: run their business.
I've earned a Bachelor of Science degree, and a Masters of Library and Information Studies degree as a mature student. Also, I've been part of the Alberta privacy community since 1999 in both University of Alberta libraries and The Alberta Library.
Click Here for Remote Support